Scalp Micropigmentation
This Non-Surgical Procedure Is For Male Pattern Baldness – Jacksonville, Florida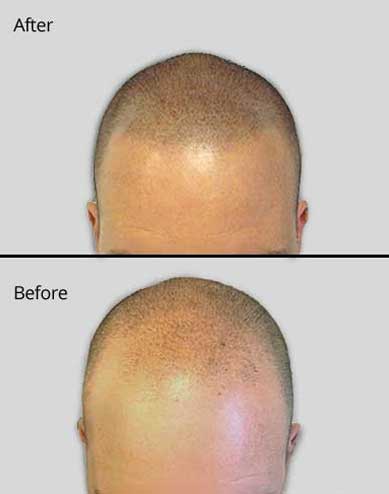 Scalp Micropigmentation for Restoring The Look Of Hair
Micropigmentation is the process of placing pigment into the second dermal layer of skin on a person's scalp. An experienced technician uses a microfine needle to produce microscopic details. At International Hair Restoration Systems we take the fine attention to detail and combine that with micropigmentation to give you an exquisite follicle replication. A realistic hairline and hair density are created with skilled techniques. This process is perfect for individuals that may have a scar on their scalp or for those that fall into a range of thinning hair showing through to complete baldness. This process can make your scalp less visible.
What is Scalp Micropigmentation
This very popular procedure is the perfect answer for male pattern baldness. It is a non-intrusive treatment performed with extremely small needles that store color to the scalp. The end result is the look of modest hair follicles that reestablish the look of having more hair. Our skilled hair specialists can re-create a hairline that is natural looking while giving the impression of thicker hair. This is the perfect method for hiding hair transplant scarring and if you like to wear your hair very short, it can make the look of short hair look tidy.
This process gives you an imitation of your own particular regular hair follicles and hair shading. Scalp micropigmentation can add the look of thick hair to areas on the scalp that have thin areas. You can do all your normal day to day activities with no limitation. Micropigmentation can duplicate the look of a buzz cut so you look like you just walked out of a barbershop.
How Scalp Micropigmentation stacks up against other male pattern baldness arrangements:
No Surgery
Minimal Maintenance
Budget-accommodating
No Medication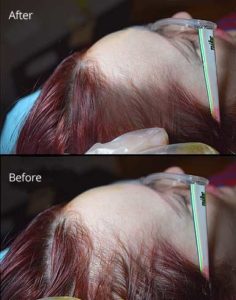 This process is often referred to as hair tattoo or scalp tattoo however, this is not a process that a tattoo shop can do for a couple of factors. Tattoo artists use inks that are meant to last a lifetime. The pigments we use are meant to hold their color for the life of the replicated hair follicles. They will begin to become less strong over time which is 5 to 7 years. Tattoo shops also use needles that are much larger and go much deeper. Micropigmentation only penetrates the 2nd dermal layer of skin ensuring minimal discomfort. The needles are specialized and are custom made to be the width of a real human hair. When the proper technique is used by our technicians your scalp will have the proper number of replicated hair in each follicle.
If your hair has begun to have thinning hair or if your hair is already gone and are mostly bald, scalp micropigmentation will work. This process can help give you the look that you still have your hair. It will make thin hair look more full and instantly.
Duplicating your own regular hair follicles and hair shading with precision with scalp pigmentation is the perfect complement for those with:
Strip Scarring
FUE/FUT Scarring
Plug Scarring
Alopecia Scarring
Accident Scarring
Regardless of your natural hair color, all of our pigments are custom blended to match your hair color. By scheduling a free consultation, we can help you determine the proper color for you and the right size of needle so we can easily match your natural hair and give you flawless results.
Get Started With a Free Consultation

Whether you are experiencing thinning hair and want to stop your hair loss, or want more hair, we offer the latest clinically proven hair loss treatment and hair restoration solutions for men and women of all ages and hair types.
We offer a range of individually customized services and solutions to accommodate multiple medical conditions, including alopecia, chemotherapy-related hair loss, trichotillomania, and thinning hair.
Discreet, Private Consultation & Services
All of our services are provided with your complete privacy in mind. We provide a discreet, confidential, professional atmosphere which our patients appreciate.
Schedule a Consultation Today
Restore your hair and your confidence. Schedule a free, private consultation today.